TOKYO, Jun 5, 2023 – (JCN Newswire via SEAPRWire.com) – TOYOTA GAZOO Racing World Rally Team driver Kalle Rovanpera has added to his lead in the FIA World Rally Championship with a clever drive to the podium and a Power Stage victory on a tricky Rally Italia Sardegna.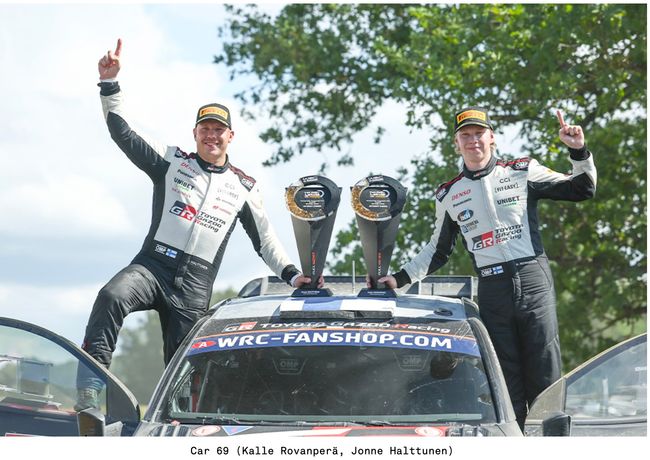 Car 69 (Kalle Rovanperä, Jonne Halttunen)
Faced with sweeping loose gravel roads on Friday while running first on the road, Rovanpera ran as low as eighth overall before a characteristically strong drive in the rain to win the 50-kilometre Monte Lerno stage lifted he and co-driver Jonne Halttunen to fourth at the end of the day.
He was then one of only a few drivers to avoid trouble on an eventful Saturday in more wet weather conditions, gaining third overall while also having to manage the limited number of softer compound tyres made available on what is normally a hot and abrasive rally.
Able to conserve rubber through Sunday's opening tests, Rovanpera then produced a typically attacking drive on a soaking rally-ending Power Stage, setting the best time by 4.7 seconds. Taking the maximum five bonus points to add to his third place overall means he increases his lead in the standings to 25 points.
Elfyn Evans ensured there were two GR YARIS Rally1 HYBRID cars in the top four at the finish, recovering strong points together with co-driver Scott Martin after losing time on Saturday morning with damage from a deep watersplash. He set the fourth-best time in the Power Stage, claiming additional points for the manufacturers' championship which TGR-WRT continues to lead by 23 points.
Sebastien Ogier was leading the rally with a strong drive before a series of unfortunate events on Saturday afternoon that culminated in him sliding off the muddy road in SS14. He returned to action on Sunday and took fifth in the Power Stage.
Takamoto Katsuta also restarted on Sunday morning in his TGR WRC Challenge Program-supported entry and resumed the good pace he showed on Friday, adding his second stage win of the weekend in the penultimate test and coming third in the Power Stage.
Quotes:
Akio Toyoda (TGR-WRT Chairman)
"I would like to send my appreciation for the hard work of all TGR-WRT members. It must have been especially tough for Kalle and Jari-Matti who travelled back and forth between Europe and Japan in a short period of time. I'm thankful to them for achieving the podium again despite such a busy schedule.
I was in Sardinia four years ago, and on the final day I was preparing to jump into the water with the team members. But unfortunately we were unable to do that in the end. I remember that I felt slightly relieved that I didn't need to. Maybe because of that, our team became not so good at watersplashes… So I hope everybody including Seb, Elfyn and Takamoto turns the page and moves on to the next event. That said, I still hope I can jump into the water at Sardinia someday (although I heard it was not allowed this year). I believe the team will continue to improve the car for driving through watersplashes.
Safari Rally Kenya is in three weeks. Like Sardinia, it will be another tough rally but it seems that our team is very well liked by the animals there. So I'm sure that our team and crew will fascinate the people in Africa again this year."
Jari-Matti Latvala (Team Principal)
"This rally last year was very difficult for the team in terms of our performance, but we came here this year and were looking much stronger and really fighting for the victory. There were many challenges with a lot of rain and slippery conditions which brought quite a bit of drama and unfortunately the weekend didn't turn out to be as good for us as it maybe could have been. But today in the Power Stage we saw an excellent performance from Kalle to take the win there as well as third place in the rally, which is giving him more nice points for the championship. It's good too that Elfyn was also able to secure fourth to get some important points for the team, and now we will look forward to the next event in Kenya."
Kalle Rovanpera (Driver car 69)
"We had a good tyre package left for the final day and it was really nice that we could therefore push on the Power Stage and finally take the fastest time and five extra points. It was definitely not easy, with a lot of rain just beforehand which was easing up a bit for the last cars, but it was a proper challenge in the mud. This has always been a tricky event for me personally, and this weekend our plan was to try and be fast when we can be and take it steady when needed and I think we did that. We had quite good pace overall and stayed out of trouble and at the start of the weekend I really didn't expect that we could end it with this many points."
Elfyn Evans (Driver car 33)
"Today it was just a case of getting the car through the first three stages and trying to look after the tyres we had ready for the Power Stage. The conditions really changed quite a lot for the Power Stage, it was raining very heavily so it was pretty slippery but thankfully we managed to get through it OK. We would have liked to take some more points from there but a couple is still better than nothing. After everything that happened this weekend I think we have to be grateful to take fourth overall and some decent points even if we're not really happy with how everything went."
Sebastien Ogier (Driver car 17)
"Today we could get back out there and it was all about the Power Stage and trying to take some points for the team if we could. Again the weather made things quite tricky at the end of the rally, and the feeling was not really there to take too much risk in these conditions. We kind of finished with some decent speed but it was nothing crazy. So overall it's probably not a weekend we will remember strongly but that's the way it is sometimes in sport and you have to accept it. There's still a lot of positives we can take with the speed that we had this weekend, and let's hope that on the next one the luck will be back on our side."
PROVISIONAL FINAL CLASSIFICATION, RALLY ITALIA SARDEGNA
1 Thierry Neuville/Martijn Wydaeghe (Hyundai i20 N Rally1 HYBRID) 3h40m01.4s
2 Esapekka Lappi/Janne Ferm (Hyundai i20 N Rally1 HYBRID) +33.0s
3 Kalle Rovanpera/Jonne Halttunen (Toyota GR YARIS Rally1 HYBRID) +1m55.3s
4 Elfyn Evans/Scott Martin (Toyota GR YARIS Rally1 HYBRID) +5m20.5s
5 Andreas Mikkelsen/Torstein Eriksen (Skoda Fabia RS Rally2) +9m33.3s
6 Teemu Suninen/Mikko Markkula (Hyundai i20 Rally2) +11m48.9s
7 Kajetan Kajetanowicz/Maciej Szczepaniak (Skoda Fabia RS Rally2) +12m46.1s
8 Yohan Rossel/Arnaud Dunand (Citroen C3 Rally2) +12m53.5s
9 Miko Marczyk/Szymon Gospodarczyk (Skoda Fabia RS Rally2) +15m33.8s
10 Erik Cais/Petr Tesinsky (Skoda Fabia RS Rally2) +16m49.4s
14 Sebastien Ogier/Vincent Landais (Toyota GR YARIS Rally1 HYBRID) +19m50.4s
(Results as of 16:30 on Sunday, for the latest results please visit www.wrc.com)
What's next?
The legendary Safari Rally Kenya (June 22-25) is the only African round of the championship. Since returning to the championship in 2021, it continues to provide gruelling conditions on rough and rocky roads as well as high speeds across open plains.
For more information, visit https://toyotagazooracing.com/wrc/release/2023/rd06-day4/.
Copyright 2023 JCN Newswire. All rights reserved. (via SEAPRWire)