LONDON, Oct 4, 2023 – (ACN Newswire via SeaPRwire.com) – Changes are being introduced to the WARC Awards for Effectiveness 2024, in association with LIONS, making the awards bigger than ever before. Now in their fourth year, the WARC Awards honour the best marketing campaigns from around the world that deliver strategic brilliance and effective impact to drive business success. 
Five new regional awards: Asia-Pacific, Europe, Latin America, Middle East & Africa, and North America. Gold winners will compete at a global level 
Entrants compete in one of five regional awards: Asia-Pacific, Europe, Latin America, Middle East & Africa, and North America. 
The regional awards will each be judged by high-calibre panels made up of senior marketers from some of the biggest brands and top agency professionals from around the region. The juries will award Bronze, Silver and Gold accolades for each of the twelve entry categories.
Gold regional winners will automatically compete at a Global level, judged by a high-profile super jury made up of all the regional awards chairs (no need to re-enter or pay additional fees) for the chance to be elevated to Grand Prix status, the ultimate global recognition for marketing strategy and effectiveness. 
Uniquely, submissions will be judged using the global standard of the WARC & LIONS Creative Effectiveness and B2B Effectiveness Ladders
A global marketing strategy and effectiveness benchmark like no other, the WARC Awards are judged rigorously and to a consistent standard regardless of origin of the entry, using the Creative Effectiveness and the B2B Effectiveness Ladders – universal frameworks for planning effective marketing communications to drive specific business-to-consumer and business-to-business outcomes.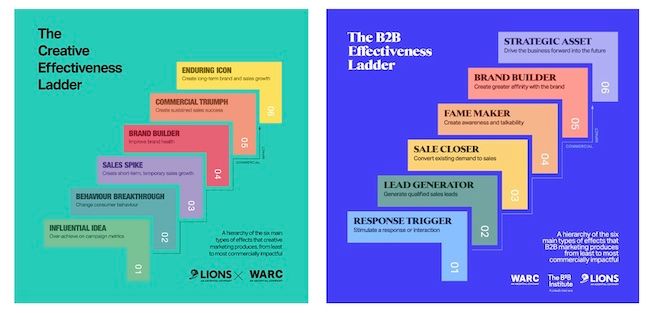 Commenting on the changes to the 2024 WARC Awards, John Bizzell, Awards Lead, WARC, said: "WARC's consistent, rigorous and definitive approach to judging marketing strategy and effectiveness is more valuable than ever for brands, media owners and agencies who want to prove they can deliver commercial success in the current financial climate.
"The expansion of the WARC Awards for Effectiveness provides marketers everywhere the ideal platform to showcase their great work, demonstrate their impact in their region and be up against the best in the world, ultimately helping drive the industry forward by imbedding a culture of effective marketing." 
Key dates for WARC Awards 2024
24 October 2023: Open for entries
12 December 2023: End of early bird entry fee
6 February 2023: Final deadline for entries
14 May: Regional awards' shortlists announced
20-25 May 2023: Bronze, Silver, Gold winners announced for all regional awards
May-June: Gold winners automatically proceed to compete globally
June: WARC Awards 2024 Grand Prix winners announced during Cannes Lions week
All previous WARC legacy awards for effectiveness, media and strategy are now subsumed into these WARC Awards. Entry fees are priced consistently across the globe, with a lower fee for WARC customers. For more information on the new WARC Awards, register your interest here.
About WARC – The global authority on marketing effectiveness
For over 35 years, WARC has been powering the marketing segment by providing rigorous and unbiased evidence, expertise and guidance to make marketers more effective. Across four pillars – WARC Strategy, WARC Creative, WARC Media, WARC Digital Commerce – its services include 100,000+ case studies, best practice guides, research papers, special reports, advertising trend data, news & opinion articles, as well as awards, events and advisory services. WARC operates out of London, New York, Singapore and Shanghai, servicing a community of over 75,000 marketers in more than 1,300 companies across 100+ markets and collaborates with 50+ industry partners.
WARC is an Ascential company. Ascential delivers specialist information, analytics, events and eCommerce optimisation to the world's leading consumer brands and their ecosystems. Our world-class businesses improve performance and solve customer problems by delivering immediately actionable information and visionary longer-term thinking across Digital Commerce, Product Design, Marketing and Retail & Financial Services.
With more than 3,800 employees across five continents, we combine local expertise with a global footprint for clients in over 120 countries. Ascential is listed on the London Stock Exchange.
For further information, please contact:
Amanda Benfell
Head of PR & Press, WARC
amanda.benfell@warc.com
www.warc.com
Copyright 2023 ACN Newswire via SeaPRwire.com.